A Collaboration comes to fruition with the opening of the Courtyard by Marriott Keele Staffordshire in February 2021
12 Feb 2021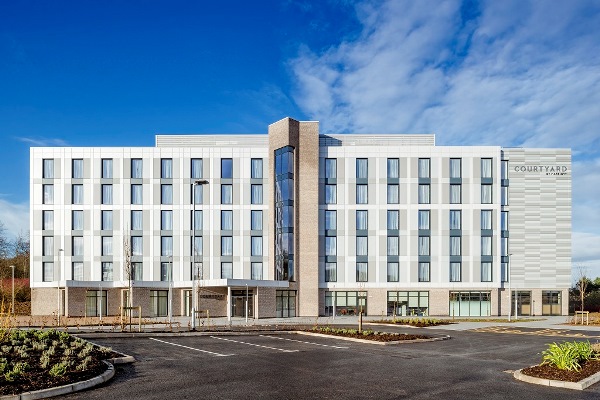 It's almost two years since the announcement of the collaboration between Keele University and Tower Hotel Management, to deliver the 150-bedroom Courtyard Hotel Keele Staffordshire, which opens on February 1st 2021. Whilst most ventures of this nature will see challenges throughout the build, this project has had the additional challenges of managing a new build during a pandemic and the obstacles COVID-19 placed on the project.
This said, the introduction of the hotel on Keele University's Science and Innovation Park will open new doors for Keele University Events and Conferencing, which will now be able to offer year-round residential conferencing, with four-star bedrooms, in addition to the summer vacation accommodation through the commercial letting of the 2,000 student bedrooms to host a plethora of domestic and international conferences.
Tower Hotel Management and Keele University Events and Conferencing share with  the partnership and opportunities as a result of the collaboration.
What key benefits do you feel there are working in partnership with Keele University Events and Conferencing?
By partnering with Keele University Events and Conferencing, we will be able to offer quality and reliable accommodation for visitors whether that be visiting family, attending a conference, wedding or attending a graduation. The hotel will support the University and increase the likelihood of events that span a longer period which requires attendees to stay overnight.
The Scholars Restaurant and The Campus Coffee Shop serving Starbucks will create more community in the area and bring students, visitors, and business travellers together.
For Keele University Events and Conferencing, we now have the opportunity to promote year-round residential conferencing which offers four-star accommodation a short walk away from the historic Keele Hall, as well as offering overnight accommodation for our banqueting and event clients. We will also have the opportunity to bring some outsourced accommodation back onto the Campus with the hotel, which potentially offers greater flexibility for courses in their programme timing.
How do you feel academic venues can benefit by offering a Hotel Brand within their portfolio?
By offering a hotel brand, you're automatically bringing an established audience on to campus – those who are familiar with staying with that brand for business or leisure. Hotel brands often bring with them services such as marketing and PR support, which will further the reach for the academic venue and creates a new USP for prospective students and their families.
What key benefits will clients benefit from when choosing Keele University Events and Conferencing as their conference venue and hosting accommodation at Courtyard by Marriott?
We believe clients are looking for a 'one stop shop' to provide all their conference and event needs, working with one event manager who can advise on aspects of preparation and be alongside them on the day to deliver the event. Simplicity of event planning is key:
Everything is available 'on-campus' – event space, accommodation, leisure facilities, extensive grounds, space for networking and socialising.

Located in the Midlands, travelling by road, rail or air is all within easy reach of the campus, and once onsite, delegates can walk around this leafy rural campus and enjoy the flora and fauna.

Varied conferencing space – from small meetings for 10 delegates to international congresses for 1,000, there is a host of lecture theatres, classrooms, exhibition space, labs and specialised areas that can be utilised by clients for their events.
What business objectives do both organisations share to bring to the conference and events market?
Introducing Courtyard by Marriott Keele to the campus enhances the University's facilities for visitors, conference delegates, social events, and students. In addition, we foresee the hotel being popular with leisure guests visiting Staffordshire where there is a host of tourist attractions - from the historic potteries to Trentham Gardens, museums to the world-famous exhilarating Alton Towers, there's something for everyone!
The collaboration will introduce both organisations to new opportunities, how will you realise these opportunities to convert into business?
The excellent facilities and reputation of the university, its commercially led Keele University Events and Conferencing and the strong Marriott global brand will open the opportunity to attract both national and international events to both venues. By close collaboration, understanding each other's facilities, services and markets, we can ensure we maximise on the potential opportunities for the university and the hotel. The commercial team at Keele University Events and Conferencing have over 20 years' experience in managing events, combined with our hotel team who excel in customer care, we are confident we have the perfect blend to strengthen our position as an award winning and leading academic venue in the UK.
What challenges do you think you will face as you open in early 2021?
The Coronavirus pandemic has affected the events and hospitality industries dramatically across the world and it is going to take some time to establish a 'new normal' and gain the confidence of the public to attend events safely. However, as the hotel is new – we have been able to tailor the interior and cleanliness/sanitising measures to be in line with Government guidelines and requirements.
Whilst we are unable to offer pre-opening client visits or on-site meetings at the moment, the hotel open in February 2021, to key workers and those requiring to be on campus. Our team will be speaking to clients and providing virtual tours of the venues and online meetings to introduce the hotel for their business needs.
Marketing your businesses independently and collaborating is a fine balance, how do you plan to monitor this?
Both establishments have already started to identify those opportunities that would be a fit for the university and hotel as a suitable venue to host their events, however there will be opportunities for the hotel outside of this within the local market which will be another key focus and in turn may generate new opportunities for both parties. As we have both business and leisure opportunities, we are confident that our businesses will develop many new avenues as the hospitality industry reopens and begins its journey of recovery.
When non-residential conference venues are seeking to partner with an accommodation provider, what do you think is key to create a successful partnership?
A great working relationship is essential, understanding each other's products, services, clients, and objectives are crucial along with a shared vision of bringing further residential conference and events to the sites. Bringing together the joint skills and experience of our two teams provides great peer to peer networking to deliver creative and innovative marketing and sales strategies.
Whilst conducting this conversational piece, Peter de la Perrelle, Managing Director of Tower Hotel Management, the hotel operator for the new Courtyard by Marriott at Keele Staffordshire said: "Since we began on site in October 2019, we have been working closely and in collaboration with the Keele University Events and Conferencing team to promote the new establishment and gain a captive audience ahead of the launch.
"We would like to thank the Keele University Events and Conferencing team for their continued support, and we look forward to welcoming our first guests through the doors in February 2021."
Emma Woodcock, Head of Event and Business Development for Keele University Events and Conferencing said: "We are delighted to have Courtyard by Marriott Keele Staffordshire as part of our commercial portfolio. Being able to offer year-round accommodation to our potential clients will give us many more avenues from which to source our business. As a leading academic venue, we know that this will provide us with even more opportunities to introduce new clients to the exceptional facilities we have across the Keele University Campus. Over the past few months, we have been working with the hotel team on some joint opportunities and know this will continue to grow over the coming months."