Veganaury with the National Memorial Arboretum events chef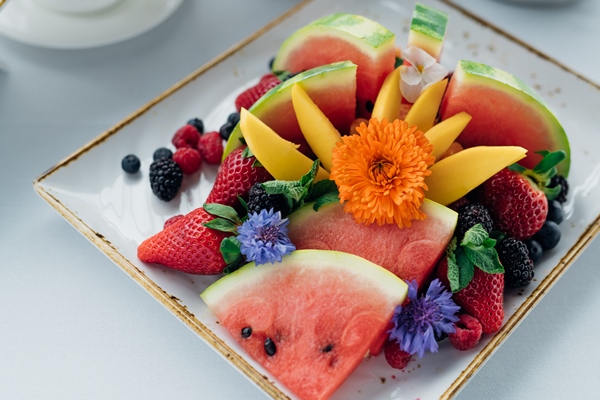 After the gluttony of Christmas, it's understandable that more and more people are embracing veganism. Whether you're trying it in a bid to be healthier in 2020, setting yourself a challenge or you want to feel better about the impact you make on the world, attending meetings and events shouldn't stop you.
The vegan market has fundamentally changed in the last six years, becoming readily available for the many, and as a chef my knowledge, skills and talents have been put to the test to overcome the commonplace habit of selecting one solitary dish for menus as a token acknowledgement to the sector.
Over the past eighteen months offering plant-based options to guests, every bit as considered, delicious and creative has become our standard at Aspects at the National Memorial Arboretum. With this demand in mind, every new menu we develop has vegan and vegetarian options as standard and this year during January we're offering delegates the option of a completely plant-based menu.
Personally, I love a challenge and this menu definitely made me think. At first I wasn't sure where to start, but then I heard a voice - my daughter's - a typical teenager who wants to try every new trend. Without even realising it, I'd been generating plant-based meals all of her life; substituting dairy and animal products for plant-based options to manage her lactose intolerance and cater to her developing tastes.
One of my favourite recipes, which came from a colleague of mine, is below. I was really intrigued by (and sceptical of) the coconut bacon at the time but it is now a firm family favourite!
Vegan Butternut Squash 'Carbonara' with Coconut Bacon
Serves: 2
Prep time: 10 Mins
Cooking Time: 50 Mins
Course: Main/Bowl Food
Ingredients:
1 Neck of a Medium Butternut Squash
1 1/2 tbsp Olive Oil
5 Sage Leaves, Gently Shredded
1 Medium White Onion, Diced
2 Cloves of Garlic, Crushed
10g Vegetable Stock Paste
3 tbsp Nutritional Yeast
2 tbsp Tahini
125ml Hot Water
170g Dry Spaghetti
125ml Pasta Water (Reserved From Cooking)
To Serve:
Coconut Bacon (See Recipe)
Raw Almonds (For Shaving)
Instructions:
Preheat your oven to 180 C.
Peel the butternut squash and cut it into 2cm cubes. Drizzle with 1/2 tbsp of oil and place onto a baking tray. Roast in the preheated oven for 30-40 minutes until tender.
Meanwhile heat the remaining olive oil in a small frying pan over a medium-high heat. Add the sage leaves and fry until crispy. Remove with a slotted spoon and drain on a paper towel.
Cook your pasta according to the instructions. Don't forget to keep 125ml of the cooking water for the sauce! Drain the pasta when cooked and return it to the pot (off the heat).
Add the onions to the frying pan you were using earlier. If there isn't much oil left, add a splash more and cook the onion over a medium-low heat until translucent.
Add the crushed garlic and sauté for about a minute, just to remove the rawness, then transfer the onion and garlic to a blender.
Add the stock, nutritional yeast, tahini, hot water and blend until smooth. Add the roasted squash and blend until smooth. Pour in the cooking water a little at a time, blending between additions, until a smooth, creamy sauce is achieved.
Pour the sauce over the pasta in the pot stirring to coat (stir over a low heat if the sauce/pasta need warming up). Divide the pasta between 2 bowls and top with the crispy sage, coconut bacon and micro plane over some almonds for a parmesan effect.
Coconut Bacon:
1 tbsp Brown Miso Paste
2 tbsp Maple Syrup
1 tbsp Liquid Smoke or 2 tsp Sweet Smoked Paprika
1 tbsp Soy Sauce or Tamari
A few good grinds of black pepper
1 tbsp Coconut Oil, Melted
120g Untoasted, Unsweetened Coconut Flakes
Instructions:
Preheat your oven to 160oC. Line a baking tray with a non-stick mat or a piece of baking paper.
Place the miso paste into a small bowl with the maple syrup. Cream the two together using a spoon. Add the liquid smoke and stir that in until smooth. Mix in the soy sauce, black pepper and coconut oil.
Place the coconut flakes into a large bowl and pour the miso mixture on top. Toss it all together with your hands until the flakes are fully coated.
Spread the flakes out onto the baking tray and bake for 20-25 minutes, stirring and tossing the mixture every 5-10 minutes to prevent burning. The flakes should look dark and feel dry but they won't seem crisp until they've had a chance to cool.