Mighty Oaks take root at National Memorial Arboretum
16 Apr 2019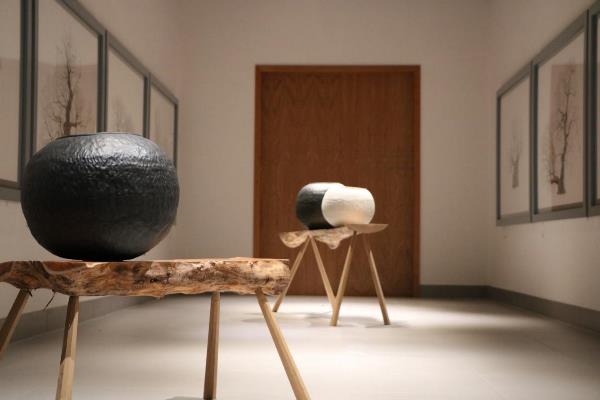 The clay soil of the National Memorial Arboretum, in Staffordshire, provides the foundation for almost 30,000 young trees, thriving living tributes to tremendous acts of service and sacrifice that will endure for centuries. A new temporary exhibition – Mighty Oaks, Coiled Clay - featuring work by illustrator Mark Frith and ceramicist Charlotte Barker, explores these two materials that are fundamental to the site.
Each of the mighty oak trees captured in the graphite illustrations by Mark Frith is hundreds of years old, having grown from fragile saplings into imposing veteran trees that inspire a sense of wonder with their majesty. These detailed portraits were created over a period of three and half years and offer a glimpse into the future of the young trees at the Arboretum, and how they will develop in the care of the site's arborists.
Charlotte Barker's contemporary ceramic sculptures have been constructed using traditional processes, evoking a feeling of nostalgia fused with a sense of spontaneity. Capturing Staffordshire's fame for its clay and pottery industry – Charlotte's works are formed from coils and slabs of this versatile material and rest on low oak structures, bringing together materials that sit at the heart of the county and the Arboretum.
Mighty Oaks, Coiled Clay is on display at the National Memorial Arboretum until 23 June.
Chris Ansell, Exhibitions Officer at the National Memorial Arboretum, said: "This new thought-provoking exhibition explores materials with a special connection to the Arboretum, encouraging visitors to consider them in their natural and worked forms. We are delighted to be able to showcase these profound creations by two talented artists as we continue to develop our cultural offering through our temporary exhibition programme, assisting our efforts to engage new audiences."