Bank Holiday Babies at Trentham Monkey Forest
27 May 2016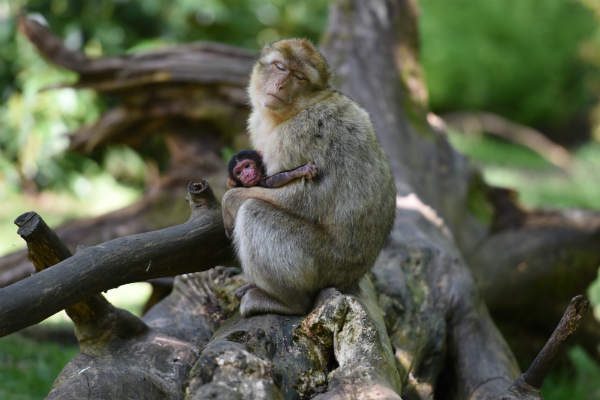 Trentham Monkey Forest, based in Staffordshire, are thrilled to announce the births of not 1, but 3 new arrivals! The first baby was born on the 24th May, with the others arriving later in the week. The little ones have arrived just in time to enjoy what looks like a sunny bank holiday weekend ahead.
The forest team are keeping a close eye on the babies, all new mums and babies are doing well. Soon after birth, mums are often hidden away in the forest away from human eyes, just like all new mums they are taking every opportunity to rest. The babies are usually born high up in the trees at night, and it isn't until the following morning that the tiny bundles can be spotted by the Monkey Forest team.

The babies are born with a black coat, weighing in at around 600 grams. They have extremely oversized ears which they will eventually grow in to as well as a bright pink face!

Monkey Forest Manager Matt Lovatt commented, 'It's such an exciting time of year at Monkey Forest.  Each baby born is a valuable addition to the endangered Barbary macaque and with more babies due in the coming weeks we couldn't be happier.''

With the weather warming up and baby season in full swing, the forest is anticipating more arrivals in the coming weeks. Last year the forest was lucky enough to have 12 new arrivals, who are now very active and brilliant to watch as they spend the majority of their time playing in the trees.

So grab your cameras and visit the 140 free-roaming Barbary macaques and remember to keep your eyes peeled to catch a glimpse of the newest swingers in town! Visit www.monkey-forest.com/gallerys to see more images of the baby monkeys guaranteed to make you say 'aww'.