Crewe Hall scoops gold at national tourism awards
10 Mar 2016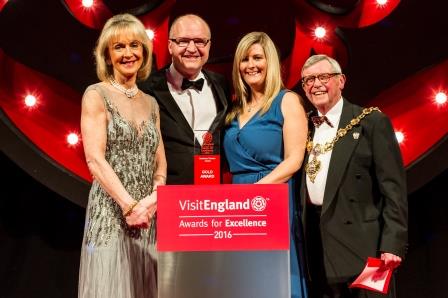 Crewe Hall is celebrating after being recognised as the best venue in the country for business tourism at the 2016 Visit England Awards for Excellence.
Crewe Hall, one of QHotels' 26 four-star hotels across the UK, was the only venue to be presented with a Business Tourism Gold Award, highlighting the strength of the hotel's corporate offering as a destination for conference and events in the UK.
The hotel beat off tough competition from venues across the country in the awards, which recognise businesses that champion best practice, demonstrate excellence in customer service and celebrate the very best in quality and innovation.
Set in eight acres of parkland in the Cheshire countryside, Crewe Hall combines historic charm with modern facilities to offer a state-of-the-art conference and events centre.
Mart Louwerse, General Manager at Crewe Hall, said: "We are overjoyed to win the Gold Award, as it represents the highest standard of business tourism in the country.
"The team here at Crewe Hall thoroughly deserve this award for all their hard work, delivering memorable customer service that encourages our business guests to return time and time again.
"The QHotels approach really sets us apart from other hotel groups, as we continue to enhance our offering based on the feedback we receive from our guests, and this award is further evidence of this."
Sally Balcombe, chief executive of VisitBritain and VisitEngland, said: "The VisitEngland Awards for Excellence celebrate English tourism champions.
"These awards are the highest accolade in the industry, recognising the world class tourism experiences that can be found throughout England.
"As ever, competition has been fierce, with winners from the region coming through to compete at a national level. The Gold Award winners are the standard bearers for English tourism."
To find out more about Crewe Hall for your next event, call the Staffordshire Conference Bureau on 01782 232076.