Alton Towers Resorts' newest rollercoaster Galactica now available for free exclusive corporate hire
29 Jul 2016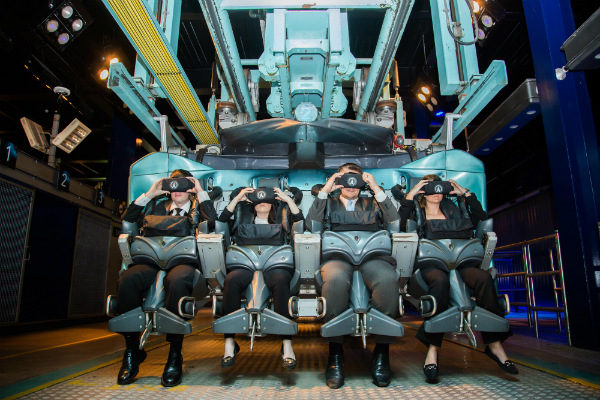 Galactica, the world's first rollercoaster dedicated to virtual reality, is available for UK delegates adding a whole new level of excitement to their corporate events at the theme park.
To celebrate the new out-of-the world experience, Alton Towers Resort have announced free exclusive hire of Galactica for all events held in November* 2016, when booking a minimum of 100 bedrooms. Event planners just need to quote 'November Galactica' on booking to secure the ride for free for themselves (worth £2,000!).
The benefits of Virtual Reality (VR) in the corporate world are already being recognised by industry experts, whether it's in training delegates, showcasing a venue or concept without having to visit, or giving delegates an immersive experience offering momentary escapism from a day of back-to-back meetings. To mark the launch of Galactica for corporate events and the rising significance of VR in the events industry, here Figment Productions, the people behind the ride's ground-breaking technology, explain how VR technology is revolutionising the theme park experience…
A whole new type of VR…
Galactica is the first rollercoaster in the world to use a technology called Vector VR; a new motion-synchronisation system for VR. Customised specifically for the ride, this sets Galactica apart from any other VR experience currently available. Vector is the world's first fully realised VR motion-sync system with full operational control which ensures visuals sync perfectly with the ride.
Faster than space travel
Astronauts normally experience a maximum G-force of around 3gs during a rocket launch. Riders on Galactica will experience a maximum G-force of 3.5gs.
High flyers
Augmenting VR with the synchronised movement of a ride is a complete game changer and the flying position that riders experience makes Galactica truly unique. Nothing else in the world can give you such a physical sensation of flying.
Trick of the mind
The really clever part is that the technology can exaggerate movements so passengers feel everything much more acutely. For example, if the carriage moves slightly to the left or right, the movement is exaggerated, making riders feel as if they've done a full 360 degree turn. This makes the rollercoaster feel completely different to any previous experience people may have had before on a ride.
Overcoming 'the locomotion problem'
There is a well-known issue in the VR world called 'the locomotion problem'. It means that you can easily get motion sickness if your movement in VR doesn't match what your vestibular system is telling you. It's tricky in VR to run, drive, or fly at speed. However, the games industry is currently coming to terms with this challenge. Galactica uses a powerful combination of custom hardware and software in Vector to ensure the VR world is perfectly synchronized – so a rider's vision and their body remain on good terms!
Simon Reveley, Owner, Figment Productions Ltd said, "I think people will be stunned when they see what we've done with the VR content in terms of graphic quality. It delivers an experience with visuals that go way beyond the game-style graphics traditionally associated with Virtual Reality. No doubt about it, VR will be a key part of the future for theme parks. However, we should never rely on technology – it should always be about the right technology for the right job. We're all passionate about VR because it's helping us to deliver magical experiences. The future will see improvements in all sorts of tech: projection, lighting and screen technologies, Augmented Reality and Mixed Reality technologies. Whatever the latest buzzword, we are all 100% committed to delivering ground-breaking world firsts".
Speaking of the new attraction, Gill Riley, Marketing Director at Alton Towers Resort said "Galactica uses ground-breaking technology to give riders a breathtaking and completely unique rollercoaster experience. Tim Peake captured the imagination of millions of Brits last year when he set off on his mission to the International Space Station – and now our visitors can become virtual astronauts too!"
 *Exclusive ride hire of Galactica available between 7th and 25th November 2016 for conferences with a minimum of 100 bedrooms and is subject to availability.
To find out more, call the Staffordshire Conference Bureau on 01782 232076 or email conference@stoke.gov.uk