Staffordshire Stoke-on-Trent Conference Bureau will bring a Throw Down challenge to International Confex
29 Jan 2016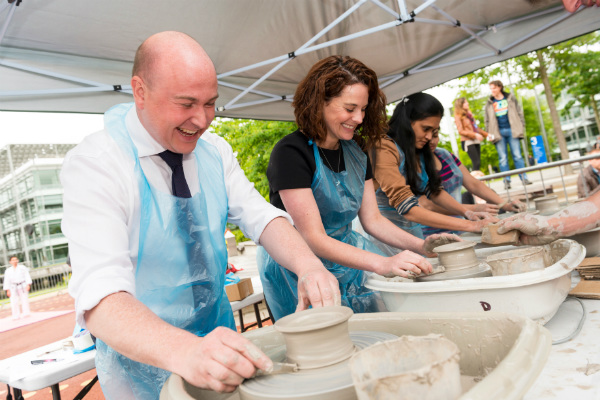 The Staffordshire Stoke-on-Trent Conference Bureau will be raising its profile at this year's International Confex event, at London Olympia on March 2nd and 3rd, by staging its very own pottery Throw Down challenge throughout the show.
Located on Stand Number F89 at the industry's leading annual exhibition, the Bureau has helped to stage "Meetings on a Plate" for countless organisations over the years, and is doffing its cap to its ceramic heritage once again by celebrating The Potteries' pivotal role in BBC TV's latest hit programme The Great Pottery Throw Down.
Hard on the heels of Stoke-on-Trent's role in BBC TV's 24 Hours in the Past, when six celebrities spent time learning traditional skills in original workshops amongst the cobbled yard and huge bottle ovens at the Gladstone Pottery Museum, another of Stoke-on-Trent's top attractions came under the full glare of the spotlights when it hosted a spin-off to The Great British Bake Off.
Middleport Pottery, in Burslem, spent much of 2015 hosting the crew for The Great Pottery Throw Down presented by Sara Cox who commented: "Clay, mess, passionate potters and the team behind Bake Off. What's not to love?"
Middleport Pottery itself reopened to the public - and organisations in search of places to stage their meetings and events - in 2014, following an £8.5-million restoration project under the auspices of The Prince's Regeneration Trust.
Hoping to convince everyone at International Confex that Stoke-on-Trent & Staffordshire offers everything needed for the perfect event, the Bureau will be bringing news of a new version of their brochure, set to be launched in the Spring…along with a potters' wheel!
Terry Follows, cabinet member for greener city, development and leisure says, "We want to cause a bit of a stir at International Confex this year - so will be giving anyone who watched The Great Pottery Throw Down, or who simply wants to have a go at throwing a pot, a chance to join in our very own Throw Down challenge. Our potter, Andrew, is from teamday.co.uk - another of our members, who offers similar challengers to delegates attending events in our region."
The Meetings on a Plate guide, meanwhile, will be packed with all of the information required to plan and book the perfect meeting, at the ideal venue, proving that Staffordshire really is "just your cup of tea".
The current edition of the Meetings on a Plate guide can be obtained from stand F89 at International Confex on March 2nd and 3rd.
If you are unable to attend International Confex but would like to find out more about the fantastic range of venues in Staffordshire, call the Staffordshire Stoke-on-Trent Conference Bureau on 01782 232076 or email conference@stoke.gov.uk