A twist on corporate dining with the UK's first Rollercoaster Restaurant
05 Jan 2016
Alton Towers Resort will bring a new meaning to the term 'fast food' in May 2016, when it opens the UK's first Rollercoaster Restaurant, a new dining concept which will be available for exclusive corporate hire. The new restaurant will see dishes travel along more than 400 metres of spiraling steel track - the equivalent of an Olympic sized athletics track and reaching speeds as fast as Mo Farah, before its delivery to the table.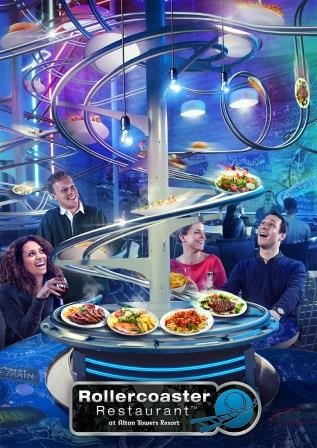 Set beneath a vast rollercoaster track, the new restaurant will allow diners to watch their food tackle two gravity defying loop-the-loops before dropping 26ft - the equivalent of two double decker buses - down a tornado spiral track to their table. Each plate will travel an average of 173 miles each week, the same distance between London and Sheffield, with every dish put through rigorous testing at the Resort's test centre to ensure the food can withstand the extreme force.
Whether it's breaking the ice at a teambuilding dinner or adding something extra to a corporate away day, the new restaurant will most certainly put a twist on any corporate event. The restaurant will be available to hire exclusively for up to 150 dining delegates from 13th June 2015.
Ellie Jones, Business Development Manager, Alton Towers Resort said "Here at Alton Towers Resort we strive to put a twist on things, to take something normal, and make it unique and exciting. We're really turning the dining experience on its head with the new Rollercoaster Restaurant - quite literally - and we are delighted to be able to offer companies holding a corporate event at the Resort a truly memorable time which cannot be found anywhere else."
The restaurant will be accessible via a walkway running from the Alton Towers Hotel, right into the heart of the Theme Park, and will offer a new premium menu for evening events.
The Rollercoaster Restaurant is available for exclusive corporate hire from 13th June 2015 for midweek bookings (excluding school holidays and subject to availability) for a minimum of 50 diners. Price available on request. For more information visit www.altontowers.comor call 01538 704030 to book.