Pumpkins are not just for carving - Roast Pumpkin Sage Chestnut and Pancetta Risotto Recipe
01 Nov 2015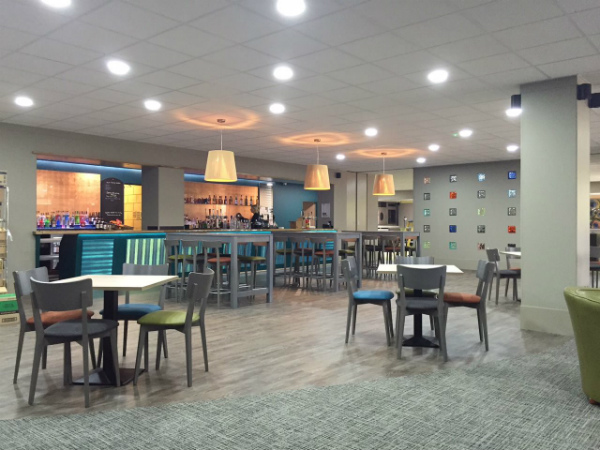 Yarnfield Park helps people and organisations from a diverse range of sectors to achieve their conference, training and development goals.
Here Executive Head Chef Laurence Chell gives us an autumn recipe idea which shows that pumpkins are not just for Halloween and for carving.
Ingredients
Pumpkin - small/medium
Salted butter - 80gms
Olive oil
Chicken stock - 1.1 litres
White Onion - 1
Red chillies - 2
Pancetta - 12 slices
Chestnuts - 100gms
Sage - 4 leaves
Garlic - 2 cloves
Celery - Half a head
Coriander seeds - 1tbsp level
White wine/ Vermouth - 3 glasses
Risotto Rice - 400gms
Parmesan - 90gms
Mascarpone cheese - 150gms
Slice off the top of the pumpkin and scoop out the seeds. Keep for later. Rub pumpkin with a little olive oil inside and out
Place in a pre-heated oven (190 C or gas mark 5) for thirty minutes.
Meanwhile...
Chop onion, chillies, sage, garlic, chestnuts and pancetta. Size is up to you, but I like mine Chunky.
Then "bash" the coriander seeds and chillies together. You can use a pestle and mortar.
Place a knob of butter and a splash of olive in a pan, place onto the heat and melt butter gently.
Once warm sauté of all the chopped ingredients: onion, the chilli, and coriander bash, sage, garlic, celery, chestnuts and pancetta. Cook until soft, approximately 15 minutes.
Add the risotto rice to the pan and stir gently.
Pour 3 glasses of wine, pour in the first 2 and drink the 3rd.
Start to add the chicken stock gradually letting each ladle be soaked up. Rice should still have a bite.
Add grated parmesan and a large dollop of mascarpone cheese and stir gently.
Enjoy
You can replace the chicken stock with vegetable stock and the pancetta with roast or smoked peppers for a vegetarian version. You can roast the pumpkin seeds off with a little of your favourite spice for a garnish and don't forget to let us know what you think - we would love any pictures or comments on your thoughts once you have sampled the dish.