New award for city's 'green' 21st century event venue
11 Jan 2015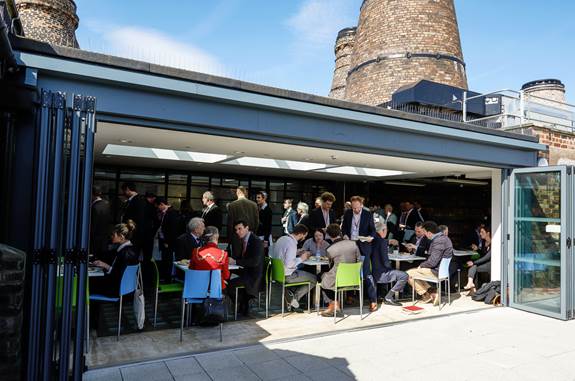 CoRE, the £12 million conversion of a former pottery works, has won one of the country's top construction industry awards and placed itself firmly on the UK events map.
The building in Longton, Stoke-on-Trent was named at the grand final of the LABC (Local Authority Building Control) Building Excellence Awards in London on 11th November as the best change of use of an existing building in the West Midlands.
The award was picked up on CoRE's behalf by architect Andrew Dobson of Purcell Architects after the judges had called for buildings that displayed "technical innovation, sustainability and high performance".
The achievement was hailed by CoRE Chief Executive David Pierpoint. "The LABC awards are really difficult to win and this brings Stoke on to the radar of organisations that are looking to emphasise their green credentials by holding their event in a unique and atmospheric environment".
CoRE - the Centre for Refurbishment Excellence - is the national training agency for professionals involved in the construction industry who wish to learn about the new techniques and materials that are coming into the retrofit market.
It is based in the immaculately-refurbished and restored Enson pottery works and showcases energy-saving techniques along with 21st century insulating materials and recycling systems alongside state-of-the-art presentation technology.
It is the third time that CoRE has featured in awards - it was Highly Commended in the Blueprint Awards Best Sustainable Project Category, and won the RIBA West Midlands Best Sustainable Project and Regional Merit Awards.
CoRE can accommodate 100 delegates in theatre style in the EoN Conference Suite which is supported by 4 additional meeting spaces.
To find out more about how this fantastic venue could work for your next event, call the Staffordshire Conference Bureau on 01782 232076.