New for 2015 - Alton Towers Adrenaline Packages
14 Apr 2015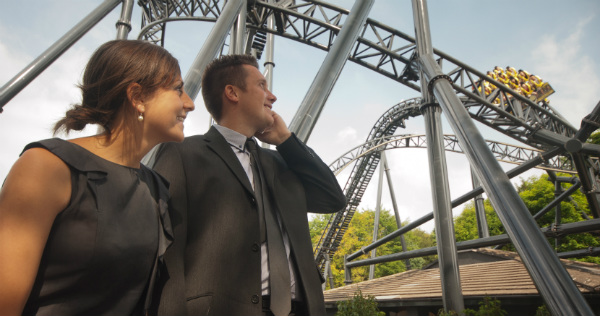 Adrenaline - it makes us buzz, feel alive, creates excitement and ultimately saves our lives; but it also makes us more alert, sharpens the senses, improves memory, and increases energy and creativeness, conditions all highly attributable to a successful delegate and corporate meeting.
In light if this, Alton Towers Resort is launching three brand new corporate rollercoaster add-ons, to get the adrenaline pumping, and bring the best out of delegates holding meetings and events at the Resort.
So what it is about this 'flight or flight' action that is so useful in the workplace? The purpose of adrenaline is to help us survive dangerous and stressful situations, but the feelings of alertness and energy generated as a result can just as easily be applied to the boardroom.
Not only do the natural chemicals bring out beneficial attributes, but the high altitude and extreme speed of a rollercoaster releases heaps of endorphins, which alleviate stress and make us happy. And there's no arguing against the fact that a happy employee is a successful and productive employee.
Additionally, the prospect of plunging into 'Oblivion' may just make that daunting presentation a little less scary in comparison....
In order to fully utilise  the world class line-up of thrill rides, and harness the benefits of adrenaline in corporate situations, Alton Towers Resort have launched three brand new add-on packages, to calm nerves, to inspire and to distract.
In addition to the adrenaline add-ons, all three packages include theme park entry, £8 of Magic Money to spend on the Resort, meeting room hire, refreshments, a two-course lunch, complimentary Wi-Fi and parking.
The Nerve Calmer - Day delegate package with scream Fastrack (Nemesis, Air & Sub-Terra) add-on - from £76.50 per person.
The Inspirer - Day delegate package with theme Adrenaline Fastrack (Oblivion, Rita & THIRTEEN) add-on from £78.50 per person.
The Distraction - Day delegate packages with Big 6 Fastrack (The Smiler, Oblivion, Nemesis, Air, Rita & THIRTEEN) add-on - from £99.50 per person.
The new add-ons can be booked in conjunction with the day delegate package or can be tailored to fit varying needs and numbers.
For further information, call the Staffordshire Conference Bureau on 01782 232076.