#DineSafe campaign launches to promote hygiene benefits of ceramic tableware
11 Jun 2020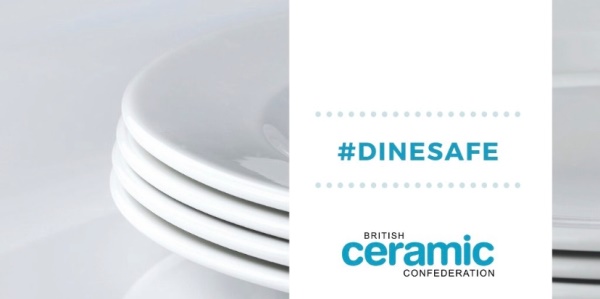 As plans for re-opening pubs, restaurants and bars are drawn up in the UK, the British Ceramic Confederation is promoting the hygiene benefits of using ceramic tableware.
The #DineSafe campaign is being supported by UK ceramic manufacturers including Churchill and Steelite, whose British made tableware products are used in the hospitality trade worldwide.
The campaign is based on Spanish guidance by the Hotels sector, which warns against serving food and drink on broken or cracked dishes or utensils.
Dr Laura Cohen, Chief Executive of the British Ceramic Confederation, said, "The UK has a world-renowned reputation for high-quality, durable ceramic cateringware.
"Chipped or cracked plates can absorb bacteria, which in turn can cause illness, so replacing damaged tableware and investing in high quality durable ceramic cateringware will be a 'must-do' investment for hospitality, leisure and tourism businesses who are looking into how they can reopen safely during coronavirus."
John Miles, President and CEO Steelite International, said, "For over 150 years, Steelite International has been expertly manufacturing specialised ceramics tailored to the hospitality industry. Our core range of tableware is made in the UK, at our factory in Stoke-on-Trent, the home of the pottery industry. Throughout our history, we have proudly strived for excellence, meeting concerns for safety, durability, and aesthetics, have always been the key drivers for the business.
"The current environment sees some key aspects come to the fore within the hospitality sector. Operators will seek out products that provide their customers with the safest, most hygienic solutions with competitive aesthetics. Companies that have been producing chinaware for all these years should be the natural choice, with a proven track record in providing quality products of the highest standard."
James Roper, Sales and Marketing Director Churchill, said, "We welcome the support of the British Ceramic Confederation in highlighting the issues around food safety and ceramics. At Churchill we have over 220 years of heritage and expertise that has gone into improving the technical performance of tableware to meet the very specific hardwearing needs of the hospitality industry.
"From the vitrification of materials, glaze formulations to engineering of shape: each and every element of design and production is geared towards the exacting needs of the market. As the current situation moves forward establishments are implementing changes, including seeking reassurances that the tableware performs technically as well as showcasing the food."
David Mulcahy, Culinary Director at Sodexo, said, "Given today's climate where hygiene, cleanliness, and safety offer much-needed consumer confidence, the tableware, and vitrified products used must be of the highest quality.
"The guest experience is enhanced through a beautiful looking plate or bowl, allowing delicious food to be presented in a visually attractive manner. From a hygienic perspective, vitrified products, produced in the UK to the highest standards not only look great but don't stain or absorb bacteria leaving no residual traces of food after cleaning. These features offer peace of mind and reassurance for food businesses and guests alike."